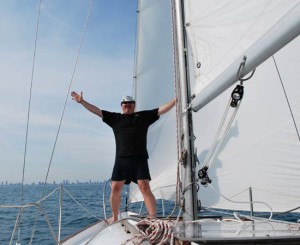 Captain Jeff Harris  |  USCG Licensed Captain
Sailing with a captain that loves to sail and explore everything that the Chicago lakefront has to offer increases the overall sailing experience. Captain Jeff learned to sail when he was young with lessons from his grandfather. Born with gills, his love of the water transcends to all his sailboat guests and crew.
"Let's go sailing today! Contact me at anytime to schedule your sailboat experience. We welcome first timers or those with experienced sea legs. The summer on the lake is an amazing experience."
Captain Lynda Stephens  |  USCG Licensed Captain
Lynda has been sailing all her life starting in the East where her father taught her well on the Atlantic seas. Then off to the west coast where she sailed the Los Angeles Harbor areas. Now here on the 3rd Coast, Lynda brings true flare to our theme sails and is an avid world sailor heading up recent charters in British Virgin Islands, South of France and San Diego.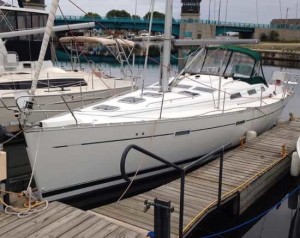 Vagabond  |  Ocianis 393 Benetou  |  Luxury 40′ Sailing Yacht
The Vagabond is an Ocianis 393 Benetou and the primary sailboat of choice for charters and lessons. Also in the fleet is a variety of boats called up when we have parties larger than 10 persons. All boats are fully equipped with safety gear and a working toilet (Head).
The Captains are USCG licensed and the ship has been inspected and certified by the Coast Guard, with annual inspections to insure your safety and comfort.
All adventures (tours / packages) can be customized to accommodate the plan for the day. For additional fees, we will supply simple meals or you can bring your own. We only ask that you do not bring a large cooler, refrigerator space is available for use in the galley. Please call, 630-816-1427 before your scheduled reservation to discuss any food or beverage needs prior to push off.