If you're looking for something a little more turned up, we've got you covered. The Chicago Party Yacht package is one of our most preferred offerings. So invite all your friends and step aboard any one of our sailboats for the ride of your life. Besides, who said speed boats get to have all the fun?
Two Brothers Sailing Adventures is a Top 10 Chicago sailing destination. We pride ourselves on offering a wide selection of adventure, always tailoring a unique experience to the individual group.
We may be the captain, but when you sail with us, we let you take the helm.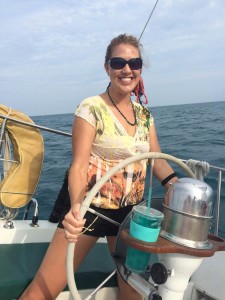 We can take care of every last detail down to the catered food to the music, or leave it all up to you if that's what you prefer. Whether you want to sail for two hours or five, sail to see specific sites on Lake Michigan and the Chicago shoreline, or just sit back and enjoy the beautiful views of Lake Michigan at sunrise or sunset, we're committed to providing you with a unique Chicago sailing experience and have a party for you and your friends, family or co-workers.
At the end of the day, we're a people that loves the art of sailing, and we hope to share that passion with you. Give us a call today and book your next Chicago sailing adventure. Let's set sail together and make some great memories!